309 Green Street
Marion, AL

Price: $125,000

Status: Active
Type: Residential
Bedrooms: 4
Baths: 3
Living Area: 3047 Square Ft.
Lot Size: 2.42 Acres

View Full-size Maps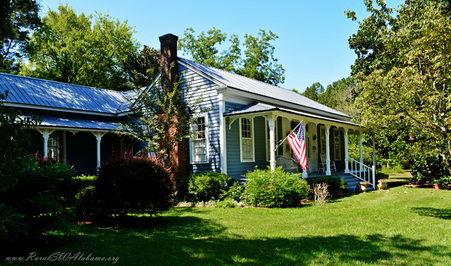 C.1847 Hogue-Underwood-Wallace, located in the Green Street Historic District, this Greek Revival cottage has small ornate columns with saw work detail on the beautiful porches. Around 1870, a wing was added on the back making the home 3047 sq ft with 4 bedrooms and 3 baths on 2.42 acres with a precious two-room cabin in the back yard! $125,000. Call Kay Beckett.

The 33 structures of the Green Street Historic District, located on a half-mile stretch along the major western approach to the city of Marion, include twelve significant examples of Federal and Greek Revival style homes and an unusually early example of the Gothic Revival. In addition to being architecturally important, these structures are primary indicators of the lifestyles of the Black Belt planter class during the prosperous antebellum period. One of them, the Andrew Barry Moore House, is listed on the Historic American Buildings Survey.
Interspersed among the pre-Civil War homes is a fine collection (9 structures) of early 20th century bungalows, as well as several modest recent structures. As a whole, the district depicts the ongoing attractiveness of Green Street as one of the city's most prestigious residential areas.
Marion, the county seat of Perry County, is located in the fertile Black Belt region of west central Alabama. Under the 1814 Treaty of Fort Jackson, the area was ceded to the federal government by the Creek Indians. Squatters and prospectors moved in until the land was put up for sale in 1817. A boom period began in the early 1830's, when farmers realized that the sticky soil was extraordinarily adaptable to the cultivation of cotton. Ultimately, production of that crop led the region to a position of economic importance in the antebellum years which it has never surpassed.
Settled in 1817 and named the first permanent county seat in 1822, Marion soon emerged as the principal city of Perry County. With the influx of cotton planters to the area, the town's economy boomed from the late 1830's to the onset of the Civil War. Its location on a high, red clay rise provided a solid, dry ground for settlement which many planters preferred to the dampness and mud of the surrounding farmlands. Increasing educational, economic, and political opportunities attracted prominent men of many professions to the young community.
Green Street, one of the city's earliest traffic arteries, was a popular building location during the pre-Civil War years, and 13 antebellum structures remain. The typical upper-middle class residence was a modest frame house with Greek Revival ornament and often a retention of Federal Period scaling. Homes such as the Italianate-detailed Magnolia Hill and the Gothic Revival Howze-Woodfin House were unusually elaborate for this area.